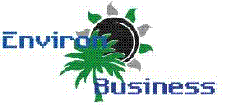 Environmental Business and Energy Information Services
EnvironBusiness
Welcome to EnvironBusiness.com - a resource for environmental business and information, fully committed to environmental protection and energy sustainability. We cover:
Environmental Issues:
Climate change & global warming
Environmental (water, land and air) pollution and remediation




Waste Management
Environmental or land degradation
Erosion prevention and control 
and so on
Energy and Energy Conservation Issues:
Non-renewable energy or fossil fuels - coal, crude oil, natural gas
Clean technologies for fossil fuels e.g. carbon capture technologies
Clean and renewable energy including biomass fuels (ethanol, biogas, solid fuels), solar energy, wind energy, geothermal energy, hydro-power
Energy conservation or energy efficiency
We also provide regularly updated news, events, jobs, contracts, and business opportunities in the environment and energy fields.
Environmental Events
Some of the environmental events occuring during month of September are: 
For more events, visit Environmental Events
Other Items on EnvironBusiness
Comments