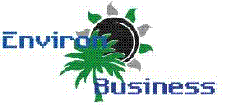 Environmental and Energy Business Resources
...everything environmental and energy...
Publish your write-ups, articles, news items and other materials with us - It is Free!!
We welcome your opinions, articles, video and other materials for publication on our website. These contributions must be related to the following topics:
Climate change;
Energy resources (renewable and fossil fuel based) - specific articles and materials on solar energy, wind energy, biomass and other alternative energy sources are highly encouraged.
Environmental pollution;
Waste management;
Energy efficiency principles.
Materials outside the scope listed above will unfortunately not be published on this site. The materials you submit to us will be reviewed for appropriateness and technical contents. Decision will thereafter be made to either publish or to decline the publication of the material. We would like you to provide us with all the details about you (the author). Your work will be properly acknowledged and made available for reading by thousands of our visitors from all over the World.
To submit materials for publication, please complete the form below. All fields are required.